CELEBRATING ALUMNI SUCCESS STORIES
If they can do it...
YOU CAN, TOO.
Megan Spillars
"I am so grateful for you! Your course helped me get my print shop up and running! I left my full time corporate job in March—now doing what I love every day. As a mom to 3 it's been scary taking the leap but the prints have helped me so much! Still pinching myself. Thanks for all you do for artists!"
Darby Shea
 "Laurie Anne gave simple step-by-step instructions (down to the tiny-est details) on how to do all of these things and more. She answered every possible question, and also included an amazing resource guide that gives insight to all of her equipment and companies that you can outsource printing to. Thanks to her course, I have created beautiful, detailed art prints of my work. I would recommend this course to anyone even slightly confused on how to create art prints that is looking to diversify their income."
Bethany Cochran
"This course has saved us so much time and money to get started with prints. It ruled out so many things we were going to try that would have been wasted money. Highly recommend this course to anyone looking to make prints of their work!"
Sarah Moore
"Art to Print has saved me years of trial and error! After taking this course, I knew exactly what equipment I needed and, most importantly, how to use it to get the highest quality images of my work for making prints. No detail is overlooked in Art to Print, and it's one of the best investments in my business I've ever made."
Krista Coons
"As a ceramic artist I wasn't sure if Art To Print would benefit me but from a business point of view I really wanted to find a way to make prints using my ceramic materials so that not all of the products I offered were so labor and time intensive. I knew nothing about photoshop, formatting, color correction or preparing prints to ship. Art To Print walks you through literally every single step and the course even offers instruction on multiple ways of approaching your prints. I found it very empowering. I'm in the final steps of preparing my prints and its exciting to see the texture of the clay on the prints and know that this is a way for so many new collectors to enjoy my work and to fill their walls instead of their tables with ceramic art."
Molly Kant
"Not being particularly tech savvy, I was nervous initially about my ability to follow the course instructions. But Laurie Anne breaks everything down into simple, bite-sized pieces. The course is approachable, easy to understand, and organized in such a way that I can quickly navigate to specific sections as needed. Even now, I continue to pull up Art to Print on my screen each time I work on a new collection of prints, and it's truly like having a friend by my side throughout the process. I can honestly say that without Art to Print, I wouldn't have had the knowledge required to create the prints I currently sell, nor would I have had the confidence needed to establish the art business I'm now proud to call my own. For me, this course has not only proven to be illuminating and inspiring; it's been downright life changing."
Tanya Val
"Taking Art to Print has been a true game changer for my art career. As someone with a background in photography, I had always been unsure about the best practices for photographing prints, exporting files, and producing high-quality art prints. I was thrilled to discover that Laurie Anne addressed all of my unanswered questions and exceeded my expectations. Her course provides clear, step-by-step instructions that guide you through the entire process. Since completing the course, I have experienced a significant shift not only in print sales but also in my personal confidence. I now have the knowledge and skills to ensure that my work is printed and presented in the best possible way. I am forever grateful for this course, and I cannot recommend it enough. Art to Print has truly been an amazing and invaluable resource."
Kandice Pierce
"I am incredibly thankful for the opportunity to learn how to create stunning prints with the help of Art To Print. The course has been a game-changer for my studio and allowed me to diversify my income. The lessons were straightforward, answered all my questions, and gave me the knowledge to create prints in my studio. It helped elevate my small business, which has doubled my print sales. I highly recommend this course to anyone looking to enhance their skills and grow their business."
Kacie Landis
"Art to Print has been such an invaluable resource. I tried teaching myself at first, but my process was inefficient, and I ended up wasting so much time & material trying to make it work. So I decided to invest in Art to Print, and it was a game-changer! Every step is laid out, it's continually updated, and Laurie Anne is always quick to answer questions. I bought the course 3 years ago, and still reference it when I'm questioning a step in the process."
Nicole Koss
"Before Laurie Anne's Art to Print course, I was recklessly researching and agonizing over how to make prints for my work. I would get some helpful information here and there, but nothing ever connected and it seemed I was always left with more questions. After taking this course, I can confidently say I am educated now and ready to start making my own prints! Thank you Laurie Anne! You've brought a confidence to my art world that will help me stay focused where it matters... creating!!"
Crystal Blake
"This course really gave me the confidence boost to get me started. It took the fear out of the unknown and answered so many questions I didn't even know I had! Laurie Anne is such a wonderful teacher. She is clear, easy to understand and follow along with. I look forward to future updates!"
Pam Wingard
"I was never completely comfortable with producing quality prints that I could feel good about offering my collectors. Laurie Anne's course gave me the knowledge to create high quality, large scale prints of my original work, from scanning, photographing and editing my images for reproducing. I'm looking forward to being able to offer both canvas and paper prints!"
"I think of Laurie Anne as the gold standard of an artist who cares equally about her craft and her business."
I have been selling prints for a long time, but I look at Laurie Anne's business and see how much room there is for me to improve. Getting access through this course to every single little detail that has made her prints so successful and has helped her grow her business is amazing. Just like in real life and on Instagram, in these videos, Laurie Anne is approachable and full of useful information. I can't wait to implement all the things I have learned in this course and I know making these changes will have a tremendous impact on my bottom line.
– CATHERINE FRESHLEY
"I'm so happy to have this resource to refer to as I perfect my printing process."
There is so much information packed into this course and Laurie Anne explains it all in a friendly and easy-to-follow manner. She answers questions I didn't even know I had!
– JENNIFER DAILY
"I so wish I had taken this course before I started offering prints."
It would have saved me $1000s in mistakes. In this course, Laurie Anne, in her wonderful down-to-earth way, offers clear instructions for creating quality files, editing them and making beautiful prints.
– LAURIE BUCK
"Laurie Anne's passion for quality shines in this course. Such an investment for any artist looking to print their work in-house."
– AYAN AHMED
"It's empowering to be able to take the photographs myself."
Laurie Anne's course is a clear, step-by-step process for making your own fine art prints. Even though I already make my own smaller-size prints, her class has inspired me to upgrade my printer, which is something I've been too afraid to do because of switching up the tech and printer brand. Her class makes it an easy decision to upgrade and walks me through each step of the once-confusing options! I also really appreciate the section on photographing your own prints. There are so many time-saving tips and tricks throughout the course - thank you Laurie Anne and Taylor!
– JULIET MEEKS
"You'll be able to enjoy the benefit of recurring income from a single piece of artwork for years to come."
Laurie Anne's Art to Print course completely de-mystifies the process of creating your own fine art prints. Her clear, thorough teaching was so easy to understand and incredibly helpful. You will absolutely walk away from this course feeling fully equipped and inspired to create your own prints at home. I cannot recommend this course highly enough!!
– LUCY REISER
"Here's to fast turnaround times, more quality control and a deeper connection with the art prints I'm shipping."
I jumped at the chance to enroll in this course—it took all the guesswork out of printing for me! Laurie Anne and Taylor show you how to handle each step of the process from setting up your files all the way to shipping your prints to customers, and it a makes me so excited and confident to start printing in house!
– JESSICA PETTICORD
"Laurie Anne sums up every single thing you'll need to build your art print business in a step-by-step, approachable course."
She is knowledgeable and thorough for all the dos (and don'ts) when it comes to scanning, photographing, and all the equipment used in the process. If you have no experience with this process, she covers everything. And even if you know part of this process, she makes it clear at the beginning how to navigate the course to learn only the parts that you need. You won't be disappointed."
– SARAH RAFFERTY
"Laurie Anne has totally demystified the whole art to print process."
Up until now, bringing printing in-house was so overwhelming to me. I feel so much more confident and informed. Such a great and comprehensive course, presented in organized bite size pieces. I love that she shared the workflow from photographing, scanning and editing artwork all the way through to packaging. With lots of tips and shortcuts along the way, I'll be rethinking my whole business plan for the year!
–ANNIE WILDEY
"Laurie Anne's course teaches EVERYTHING you need to learn the process.  I'm not scared to start now; I'm really excited!" 
– ELISE BERRY
Chelsea England
"I really can't say enough good things about Art To Print! Laurie Anne has thought of and included every detail needed to create stunning prints. I knew nothing about the required equipment, processes, lighting, photography, scanning etc that goes into taking a painting and making it into a file that can be used for prints in any form. And now I do! Her information even allowed me to be able to upload a proper file quickly for a publication I was asked to be a part of. I'm just so grateful for the info and that I can return to the course anytime I need to revisit any module!"
Connie Azevedo
"Art to Print has been such a time saver for me, figuring out how to do something new can use a lot of time and energy that would be better spent elsewhere, but this course gave me the confidence and ability to make quality prints without all that stress."
Leena Joshi
"I am so thankful to my past self for taking ATP. It taught me everything in detail about making archival quality prints at home, by myself. From start to finish, Laurie Anne's video lessons walked me through each and every step, equipment, process, trouble shooting, and some pretty awesome bonus content like where to source supplies. She holds nothing back and shares everything about how she prints in her own studio. I am not the most tech savvy person and some of the editing programs like Lightroom and photoshop can be very intimidating. This course taught me simple step by step on how to use these programs for editing and printing art prints. What would have taken me months to figure out on my own I learned it all in a week, through the detailed modules in the course. This course gave me the confidence to make and offer highest quality prints to collectors."
Helen Zhang
"Laurie Anne has made such an amazing course on how to turn your art into art prints. She gives detailed explanation in video and written format about the process she personally uses to create her art prints, so you can do the same thing! It makes life so much easier when you have someone who's already done it walk you through it. I'm also impressed that she constantly updates and adds to the course! The value of the course is way beyond what she charges for it, which makes it a no brainer to invest into your own art business."
Rebecca Sobbi
"Art to Print teaches you everything you need to know about making art prints in the simplest, most beautiful way. I would have considered myself pretty tech adverse before taking this course, but Laurie Anne walks you through every single step to make the most beautiful art prints. It's something I reference back to often and I love that it's updated as Laurie Anne adapts her techniques."
Jennifer Bezair
"Art To Print was SO helpful! Before purchasing and going through the course, I took my originals to a local fine art printer for scanning and printing. It was fine but the process was so slow (and expensive) and I wasn't able to do any editing before the printing, it was all in the printer's hands, so I felt very limited in the control I had over the final print. I still outsource the actual printing portion because that's not an area I want to spend my time on but I finally feel like I have control over the end result on my prints! The videos were super helpful especially for someone who hadn't used Photoshop in forever and had never used Lightroom. I still go back and rewatch certain videos when I need a refresher!"
Jamie Orr
"I learned so much from this course! Printing has always been something I have wanted to try, but I was so overwhelmed by the process that I didn't know where to begin. This course breaks everything down in such a clear and concise way. It takes all of the guesswork out of the process and will end up saving me time, money and frustration as I begin to delve into printing."
Lauren Sauder
"This course gave me confidence that I could turn my highly textural drawings into fine art prints. The step-by-step instructions were so clear that I could work right alongside Laurie Anne. My workflow, including packaging and shipping, feels lighter. It eliminated any questions or concerns I had and now I know my collectors will receive the best product possible."
Rebecca Caridad
"There are a ton of little things that I imagine would have taken me a long time to figure out through trial and error, and I'm grateful that I don't have to waste any of that time! I've been painting for years, but have always felt a little daunted by the process of legitimately opening a print shop that would meet my standards and after just one evening with this course I feel like I have a solid plan and a guide to refer back to as I build up my inventory of high quality files!"
Amanda Wathen
"Since going through the ATP course I have a much higher quality print now to offer. Taking the course was easy! Laurie Anne explained everything perfectly. It took me about two days to go through the course but I still refer back to it often as I'm working. I needed to know how to edit my prints better and how to properly cut them. I was already printing my own works but they are now so much more polished. Since the course I have tripled my print sales. I have been focusing on promoting them more and all the beautiful reviews that come in have helped my sales so much. I love your updates on the course and practical wisdom for promoting my prints in newsletters and on social media."
Annette Tyrrell
"This is the best investment for your art business. The ability to reproduce our efforts and offer the beauty we create over and over and over again allows artists an amazing revenue stream. Laurie Anne has provided ALL the tools and steps and resources to produce the highest quality art prints. And she is always updating the course."
Kristi McDonald
"Laurie Anne and her team have poured their heart and soul into the creation of this course, and it shows!  The course provides thorough and precise information that simplifies the printmaking process, making it feel effortless. Even though I had been creating prints for years, I still found immense value in this course. I have since adopted new Art To Print techniques which have helped me streamline my print workflow. I would wholeheartedly recommend the course to artists at any stage of their career. Art To Print stands out as one of the most remarkable resources available to artists. It is not just about mastering the art of printing— it's a comprehensive guide rich in insights to support all aspects of your printmaking journey. Thank you to Laurie Anne and her team for creating this amazing resource. It is a game changer!"
Katelynne Rose
"Printing my own artwork has been a great way to supplement my income. Art to Print has also helped to relieve the pressure I feel to always be in the creative flow producing more and more original artwork. I also love how Laurie Anne is always updating the course with any and all new information she discovers that's applicable to the course! I would highly recommend this course. You won't regret it."
Sharon Barry
"Laurie Anne's ATP course has given me the confidence to explore other income streams for my art!!! Work smarter not harder! Laurie Anne has put this course together with so much thought, this course is not an expense but an investment."
Meredith Oneal
"This course had a ton of content, much more than I anticipated and I learned SO MUCH. Not only did it teach me literally everything I could possibly need to know to make XL canvas prints, but also the confidence to expand my business. The quality of my prints has greatly improved, and that alone is a game changer for my business. I can't recommend this course enough for serious artists wanting to elevate their business."
"Absolutely the best investment I've made for my business!"
If you are on the fence on whether this is something you want to do, I'd say just go for it. You won't regret it. Thank you so much Laurie Anne!
– OLIVIA FRANKLIN
"This is the most thorough course I have taken."
Laurie Anne shows every step starting with a finished piece, moving through the digitization and editing process, to printing, and shipping. This is a must have course for anyone interested in selling art prints.
- TRACY ELSENRAAT
"The Art to Print course proved to be an invaluable time-saver for me."
Without it, I would have spent countless hours searching for the various settings and tools required to create art prints. Given my limited availability, I am immensely grateful that this course equipped me with the necessary knowledge and skills to effortlessly produce high-quality art prints for my business.
– TANISHA MARSHALL
"Art to Print is one of the best online courses I've taken."
It saved me so much time by sharing the exact information I needed to know and a ton that I didn't even know to ask about. I knew I had to learn the process of making high quality prints and ATP removed all guesswork and trail and error and just gave me the perfect workflow.
- JENNIFER ARZT
"This course provides a clear and easy to follow roadmap for anyone interested in making the best prints possible from their original art."
 Highly recommended—you could spend years working everything out yourself through trial and error, or you could take Laurie Anne's course and start making prints now!
- CATHERINE STEBBINS
"This info is exactly what I needed to get me started on art prints, 

and not needing to go through all the trial and error is going to save me so much time (and money!)."

- PAIGE RING
"This is THE BEST class for learning how to scan, photograph and print your artwork!!" 
I have taken a lot of classes - and this one is the MOST informative, by far, and the amount of content is amazing! Laurie Anne is an AMAZING teacher!  Very easy to understand and follow! Can't wait to elevate my printing practice and offerings!! 
- SUE ALLEMAND
"Laurie Anne covered everything in such a comprehensive manner and walked me through her exact processes, which is a lifesaver!"
I look forward to selling my art prints by using her techniques!
-  MAGGIE LIU
"Laurie Anne's course is a must for any artist that wants to create prints of their work, but isn't quite sure where to start!"
She is warm and friendly, and her teaching inspires courage. I highly recommend these trainings. 
-  REBECCA WELLER
"Laurie Anne took the stress out of capturing good images of paintings and turning them into prints."
This course has helped me launch the line of prints that I've been looking to add to my business!
-  MARTHA PUTNEY
"This is a great course and I highly recommend it—you'll save a lot of time trying to figure this all out yourself from scratch! "
– NATALIE ROTMAN COTE
"This is essential knowledge for any artist!"
- K LARABEE
"This information is honestly what I've been looking for for a long time—comprehensive information on how to make your own prints."
It has been well worth the investment and has given me so much clarity on how to create and sell prints from start to finish! I also appreciate how condensed the information was—the fact that I could digest it all in one sitting makes it very actionable—as I don't have to wait around for days to 'finish the course' before actioning it.
-   JACINDA SETIAWAN
"This was absolutely helpful information and I am so excited, I can't wait to get started."
Not only do I have a better understanding of the art to print process, I feel like I will save a lot of time knowing what to do instead of guessing what to do.
- PEG BALDASSARI
"Laurie Anne made what has been such a frustrating process in the past, into a breezy, manageable part of my business. I am forever grateful!!"
- RUTHIE KELLAR
"As an artist new to prints, this was so valuable and makes me confident and excited to start my journey into making and selling prints! This was an amazing course that exceeded my expectations!"
- SARA SWANSON
"This course is already blowing my mind!" 
I am coming from ground zero and already feel like I WILL be able to make prints that are professional to keep inline with my original work. I highly recommend this course when learning how to tackle artwork documentation and printing. I know this will be a tool I use for years to come!
- RAVEN ROHRIG
"Thank you Laurie Anne for providing artists with a way to grow their business!"
I have been wanting to sell prints for over a year but there was never enough resources available to provide information. I just recently found this course and I am so thankful! All of my questions were answered.
-  MADELINE BAUER
"Although I have years of experience in the industry, this course was AMAZING."
Laurie Anne touched on all the things I couldn't figure out, like how to photograph my work, which equipment to use, ICC profiles and how to make the print match the artwork! Thank you Laurie Anne. You saved me hours and hours of time and research. Love this course! Well worth every single cent.
-  BARBARA ABBATIELLO
Abigail Squires
"This course provided all of the information I needed (and more) to take my original paintings, and turn them into print files that I could then outsource to print and ship! This course provided the information that was required for me to finally launch my shop to sell prints of my art! I am so pleased with the results."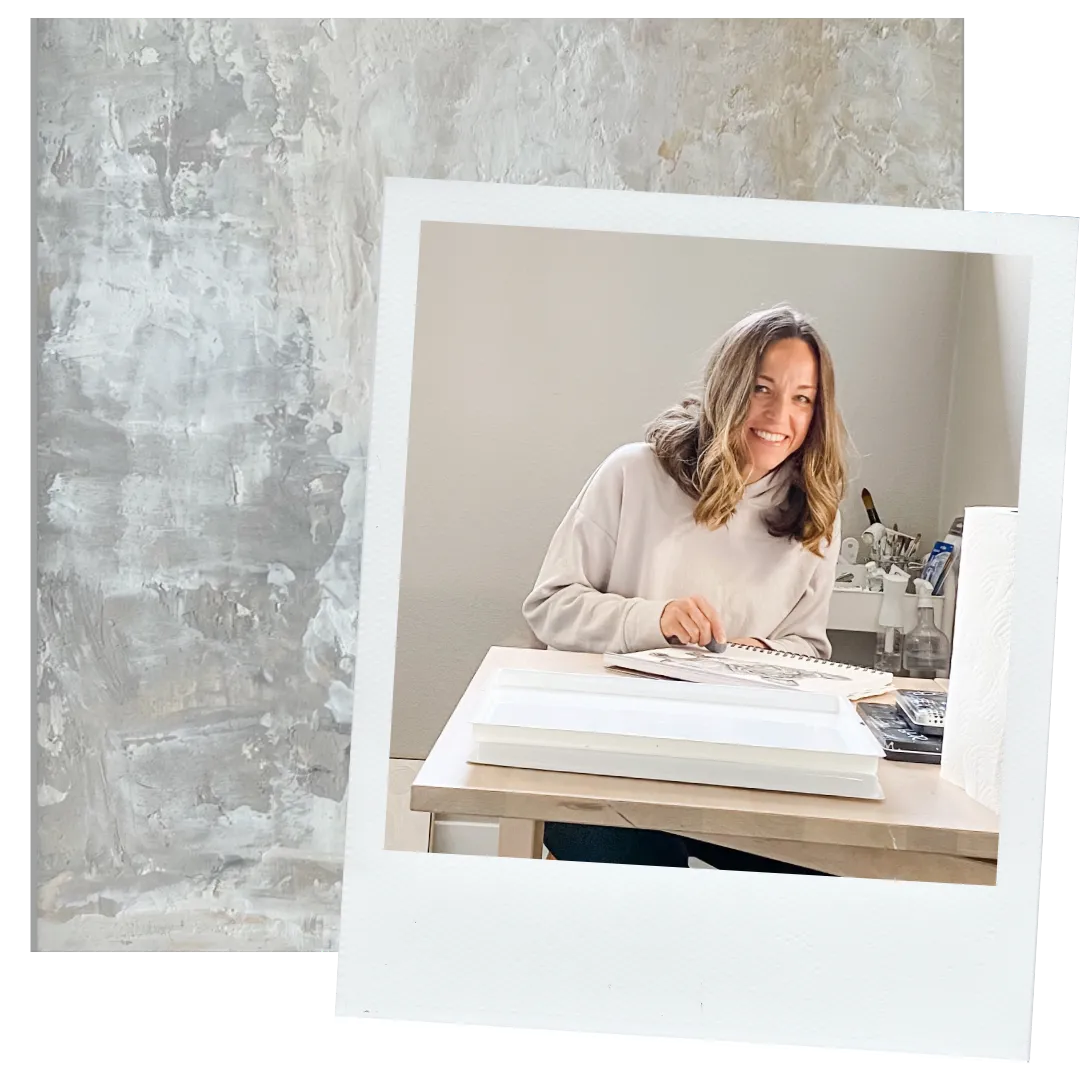 Becca Sutter
"Prints felt almost more expensive and time consuming prior to Laurie Anne's course. Now I have a step by step way to make it easier and more profitable. It's like all the trial and errors I would of gone through were eliminated. I highly recommend this course and if you don't sell prints—you should!"
Suiko McCall
"I dreaded photographing and scanning my paintings for print because I was sure I was doing it in an unprofessional way. No longer! The module on scanning prints alone is worth the price of the course. I come back to it often to refresh and review and I am always delighted by Laurie Anne's down to earth no-nonsense style and zillions of practical tips. I highly recommend this course!"
Nancy Leland
"I am ever so grateful to Laurie Anne for sharing her knowledge through this art business course! Art to Print has guided me step by step during my journey of turning my watercolor artwork into beautiful prints that look identical to or even better than the originals. Art to Print bestows time saving advice on creating art prints. Laurie Anne is quick to answer questions and update her course; she remains consistently current with the best tips and tricks! Lifetime access to Laurie Anne and ATP is wonderful, too! Laurie Anne's comprehensive guidance has undoubtedly elevated my self confidence and ability to navigate the entrepreneurial art business world. I highly recommend investing in this course, as it is worth every penny! Thanks so much, Laurie Anne!!!"
Katie Podracky
"Since implementing Laurie Anne's Art to Print course, I've been able to add in another income stream to diversify my earnings as a professional artist. The days of the starving artist stereotype are over, and thanks to this course, it's easier than ever to build your dream job. Thanks to Laurie Anne's course and a lot of elbow grease, I've been able to replace my day job with the job of my dreams and stay at home with my kids at the same time. Thank you Laurie Anne!"
Stephanie Hilen
"I have already been selling prints for a few years, but this course improved my process entirely! Before ATP, my prints were inconsistent and I felt like I was constantly re-inventing the wheel every time I needed to create a new print file. Now, I have a step by step guide that gets me there in one try every time! It's exactly what I needed to elevate my print offerings—the tools, tips and resources are gold. This is the shortcut every artist who would like to grow the print side of their business needs!"
Kinden Vazquez
"This course was absolutely worth every penny! I received WAY more information than I could have found on my own, knowing that everything Laurie Anne shared was purely from her hours and hours of trial and error experience. This class is truly priceless."
Gina Clark
"Art to Print is by far one of the best courses I have taken for my business. Laurie Anne goes through every step of turning your art into a high-quality fine art print. Every lesson is packed with practical tips. Watching Laurie Anne go through the process of editing scans and photos is amazing and bonus, I learned some Lightroom tricks for photos I didn't know. The quality of the prints is outstanding and I know it's because Laurie Anne taught me how to make the best image possible for printing. If you're looking to add another income stream to your business or have always wanted to learn how to make prints, I can't recommend Art to Print highly enough!"
Stephanie Daniels
"Laurie Anne is a great teacher and explains step by step in an easily understandable way how you can take your original artwork to digital prints. The tips she shares have helped me create better quality prints in a fraction of the time it was taking me before. I find myself returning to her modules again and again and I keep finding new tidbits I missed before."
Stephanie Riggs
"This course taught me exactly what I needed to know- how to scan, edit, and save files optimally. Without it, I was completely stuck!!! I have had many compliments on how good my prints look. Some people think they are photographs and not paintings!! If you want to make art prints and sell your work, this course is for you!!!"
Jamie Johnson
"Laurie Anne takes the guesswork out of making prints! She shares her wealth of knowledge about making art prints in this course. I have learned a lot that I look forward to applying to my own business."
Caitlin Wallace-Rowland
"This course is wonderful! I wish it had existed years ago and I would have gotten my print shop open sooner! I just needed that extra nudge and guidance and Laurie Anne was just what I needed!"
Sallie Otenasek
"I bought a commercial printer after watching this course - best thing I ever did. Prints are my main focus now thanks to Laurie Anne!"
"This course helped me go from being totally stressed out about figuring out how to print my artwork to feeling confident about the products and quality of the products I'm selling."
– ANNA LIISA MOSS
"The Art to Print course is awesome. It's step-by-step, in small, digestible, easy-to-follow segments with great tips and insight."
- LAURA SCHROLL
"Art to Print was an absolute game changer for my business!"
I am a potter and illustrator, I decorate my pottery with my illustrations and that has been my primary source of income. Last year I took this course and by making art prints of my illustrations I was able to increase my holiday profits by 20% with only 3 print options so I am excited to see how that grows as I add more prints to my collection.
- LINNEA CAMPBELL
"Art to Print held my hand throughout the whole process and gave me confidence that I could do it."
I love being able to offer a product that is less expensive than my original paintings. However, I don't love technology. Now I have my own printer and it's a thriving part of my business.
-  MARY JAMES KETCH
"Art to Print is a fantastic resource, full of information that you can go through all at once, or revisit when you need to review a specific topic."
This course helped me to start thinking about selling my prints, what extra equipment and supplies I needed, and it gave me the confidence I needed to move ahead with it.
- STEPHANIE RUBLE
"Art to Print resolved many unanswered questions that I had with scanning, lighting, photographing, and printing my artwork."
The course was easy to follow. Also, a huge win, over time when I went back and reviewed some of the lessons, I happily noted that added to the course were new tips and updates by Laurie Anne which were fully appreciated as these reflected normal 3rd party software updates that we all encounter over time. So the course is up to date no matter when you go back in and review it.
- MARGARET FARRELL BRUNO
"I love that Art to Print covers everything from scanning or photographing your painting to packaging and shipping and everything in between."
I appreciate that we have lifetime access to the course AND any additions/changes that are made. I started out painting small, so scanning my paintings is easy. But I'm getting ready to try painting larger than my scanner will handle, and all I have to do is go back to Art to Print and watch the Scanning in Large Artwork modules and I'm good to go! This course is such an amazing resource that I find myself going back to when I need a refresher or when I'm making a change and need to learn different info. It's worth every penny!
- BETH SMITH
"If you are an artist and looking to scale your business, this course is a must."
Laurie Anne covers it ALL. So many challenges we were wrestling with were covered and answered. The value she provides is well worth the cost of the course. It saved us money and time. Thank you for sharing your wisdom!
-  JENNY TAYLOR
"There's just no way I'd have even known where to start without this course."
- JACQUELINE DAVIS
"Art to Print gives you all of the tools and techniques you need to add an additional revenue source to diversify and add profitability your art business!"
Laurie Anne's lessons shows you step-by-step how to go from painting to print. The resource guide allowed me to confidently invest in the *right* equipment from the get-go.
-  KRISTY DUKE
"I love ATP because it allows me to pause and focus on different areas at a time."
I work a full time job and am a mom outside of my art dreams. So this is my way to go very slow and steady and build my foundation good and strong so that when I do launch my business online I can run with it rather than feel like I missed key details that could have made it more successful.
-  SONIA RADEMACHER
"This course has given me the confidence to try again!"
-  AVERY BRIGHTON
"This course saved me time and money to figure out how to get started in selling prints."
The incremental, step-by-step instruction taught me how to use Photoshop and Lightroom (no clue prior) -- while getting to skip the overwhelm! I would not have known how to do it without learning Laurie Anne's start to finish process. I recommend this class for anyone who wants a clear workflow structure and an efficient and effective resource list.
-  LESLIE ORMOND
My own success story
Meet Laurie Anne
After my collectors had been begging for art prints, month after month, I knew I had to find a way to make large quality prints, but I had no clue that it would change my life! Within three months of selling high-quality art prints, my husband quit his job to work with me full time as the demand for prints became too much to manage alone. Together, we streamlined my printing process, sold more prints, generated plenty of revenue to support both of us, and developed this course so that you, too, could find similar success. 
Trying to figure out how to make quality art prints is hard—there's a lot of fluff out there that doesn't get into the nitty-gritty (I know because I tried it all!). I made Art to Print completely from trial and error, so I know all the questions you're asking! I created Art to Print to make your life easier. The information in this course completely changed my business (and my life!) and the results speak for themselves: it's not just me who's had success! I've had over a thousand students take ATP —from beginners to advanced artists!
DISCLAIMER FROM LAURIE ANNE ART, LLC
Although we strive to accurately and honestly depict the educational value of Art to Print, we cannot guarantee any income from completing this program or implementing the techniques we provide. The student success stories showcase exceptional individuals whose achievements are influenced by various external factors beyond our control. Any financial or earnings information we provide should not be interpreted as a promise, guarantee, or expectation of your success level. By engaging in this program and utilizing our content, you acknowledge that we bear no responsibility for any decisions you make based on the information presented or as a consequence of purchasing any of our programs, products, or services.